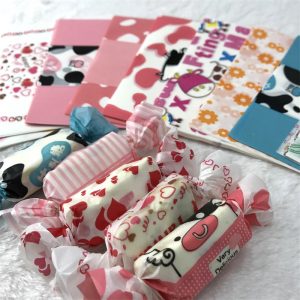 Product Details:
Product Name:
Candy paper wrap sugar paper
Material:
plastic
Process:
offset printing
Color:
Colorful
Size:
Between 12.5*9cm
Package:
conventional
Place of origin:
Ningbo,China
Feature:
Snack food packaging
Packaging papers include kraft paper, chicken paper, paper bag paper, parchment paper, cellophane, tar paper, moisture-proof paper, gunpowder wrapping paper, neutral wrapping paper, translucent paper, rust-proof paper, greaseproof paper, food wrapping paper, paraffin paper, Tea bag paper, red electric light cannon paper, vacuum aluminum coated paper, composite paper, etc.
Paper used to package a variety of goods. Generally have a high physical strength and a certain degree of water resistance. According to the characteristics of the goods, the packaging paper has the corresponding special performance packaging paper. The largest amount is the packaging of bulk powder and granular industrial and agricultural raw materials, such as cement, fertilizer and other paper bag paper, generally made of 3 to 4 layers of paper, Therefore, it is also called multi-layer paper bag paper, which is different from other bag papers for packaging light and fine goods.