Our Kraft wrapping papers are strong and cost effective way of packing and wrapping. Kraft wrapping paper is very versatile, and is used in a whole range of areas including Craft projects, Gift Packaging and wrapping, wrapping parcels, masking cars before they are spray painted, void fill to fill up space in parcels to stop items moving around and plenty of other areas too! Browse the available sizes below. We have Bulk Kraft wrapping paper from 500mm up to 900mm wide. The Bulk kraft paper rolls are made from 100% recycled kraft paper and are 65gsm, which is suitable for most packaging needs. It includes:
Environmentally friendly and biodegradable
Meet any needs
Environmentally friendly and biodegradable introduce.
Wrap, protect and create with our kraft paper rolls. Strong and versatile, it can be used as brown craft paper, a packaging slot for moving debris, or as a paper tablecloth in a country cafe.
our brown paper rolls are environmentally friendly and biodegradable, made of 100% recycled paper from sustainable sources. Double-sided untreated, no wax or coating, easy to use for children and adults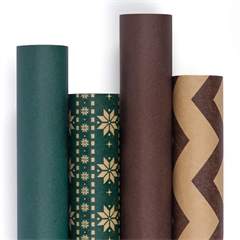 Meet any needs introduce.
Our craft paper rolls are available in 5 sizes, can handle a variety of projects, have a wide range of uses, and are durable. It can be used as large-scale wrapping paper, construction paper crafts and temporary floor coverings. Use brown roll paper to cut to meet any needs. Create customized banners and signs. Can cover a large area, such as classroom bulletin boards or dining tables. Recyclable wrapping paper.