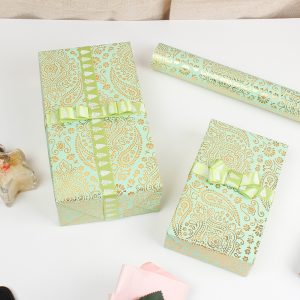 The first step: when measuring paper, in addition to the portion of the discount to be reserved, it is necessary to leave two to three centimeters of joints. After cutting the wrapping paper, first make a fold line on the lower edge of the paper by folding the paper three centimeters inward (the thickness can be adjusted arbitrarily), and then folding it up three to five times, then opening the paper. You will find three to five broken lines on the paper.
Step 2: Grab the fold line closest to the outer edge and fold it inward to become the new outer edge of the paper; then grab the second fold line and fold it at the centimeter of the new outer edge; then grab the third fold line. Press one centimeter from the second fold line, and so on, until the discount is completed, and then attach the transparent tape to the back of the paper.
Step 3: Place the gift box face up, in the center of the wrapper, and then join the sides with double-sided tape.
Step 4: Grab the wrapping paper and fold the discounted portion down the edge of the gift box.
Step 5: The left and right pieces of paper are also folded in the middle of the edge of the gift box.
Step 6: Fold the bottom paper in half, and then attach it with double-sided tape. Note that the fold line needs to be aligned with the center line of the box. The other side is the same.
Step 7: Use the folds to highlight the three-dimensionality of the gift box. In such a lined plain gift box, two ribbons with two different colors are used to tie the two bows, which can show the colorful feeling.