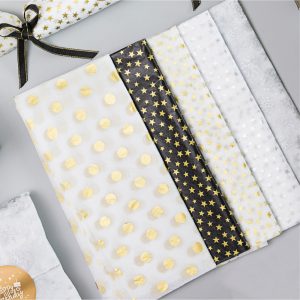 Product Details:
Product Name:
Sydney paper gilding wrapping paper
Material:
Paper
Process:
other
Color:
Custom color  Colorful
Size:
450X780(mm)
Package:
conventional
Place of origin:
Ningbo,China
Feature:
Gift paper
The outer wrapping paper is mainly used to beautify and protect the goods. In addition to requiring a certain physical strength, it is also required to be clean and beautiful, and is suitable for printing multi-colored product patterns and characters. Wrappers for liquid beverages such as milk and vegetable juice must also have barrier properties. In order to meet the needs of long-term preservation and preservation, special packaging soft packaging papers with paper and metal film composites, paper and plastic and metal film composites have been developed (see food packaging containers). In order to meet the anti-rust requirements of metal instruments and tools, anti-rust paper has been developed. Most of the cardboard is also used for the packaging of goods, mainly used in the manufacture of cartons, cartons and packaging liners.