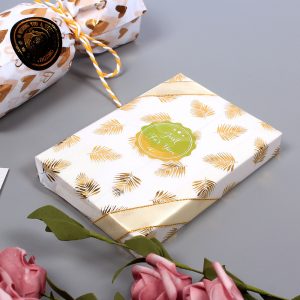 Product Details:
Product Name:
Sydney paper bronzing wrapping paper
Material:
Copy paper
Process:
other
Color:
Colorful
Size:
Custom size
Package:
conventional
Place of origin:
Ningbo,China
Feature:
Daily Chemical Packaging
A collective term for a class of paper used for packaging purposes. Can be divided into ordinary packaging paper, special packaging paper, label paper, oil-proof packaging paper and moisture-proof packaging paper. It usually has high strength and toughness. Various types of wrapping paper have different properties and uses. For example, special fruit wraps are thin and soft. Photosensitive protective paper is opaque. Oil-resistant packaging paper (plant parchment paper, etc.) has the ability to prevent grease penetration. Moisture-proof packaging paper (asphalt paper, oil paper, aluminum foil paper, etc.) is moisture-proof. Label paper is printed for packaging. Ordinary packaging paper is mostly used for general commodity packaging, and the quality requirements are not strict.