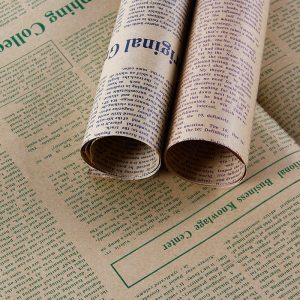 The wrapping paper used by the florist to wrap flowers is generally kraft paper.
Kraft paper is a very strong paper. Studies have shown that the breakage of kraft paper is longer than 6000m, and kraft paper also has high tear strength and breaking work as well as dynamic strength. Based on the above advantages, kraft paper is often used to make packaging materials. Among the more common uses are cement bags, envelope paper, insulating paper, asphalt paper, cable protective paper, glue sealing paper and so on.
The cow paper is usually made from sulphate softwood pulp, which is beaten and then made on a Fourdrinier paper machine. Kraft papers usually exhibit different colors due to the different sources of raw materials and the influence of the production machines. Among the more common colors are primary color kraft paper, red kraft paper, white kraft paper, single kraft paper, flat kraft paper, two-color kraft paper and so on.